---
Rational 360 analyzed social media and media consumption habits of CEOs of 2017 Fortune 1000 & 2018 Fortune 500, Business Roundtable Board of Directors, Fast Company 2017 & 2018 Most Innovative Companies, and Fortune's 40 Best Financial Services lists. Insights gained from this list include:
11.6 percent of CEOs are on Twitter: Out of 1,395 CEOs from Fortune 1000, Business Roundtable, and Fast Company's Most Innovative, 163 were active on Twitter.
CNBC is the most relied upon news outlet for CEOs: The New York Times and Bloomberg as the next most relied upon.
64% of journalists followed by CEOs write about business.
Rational 360 identified 163 CEOs from that list with active Twitter accounts searching Google and Twitter to find matching accounts, and determining authenticity through Twitter verification, reputable third parties mentioning the account or the existence of posts from inside the company or company representative verifying ownership. Rational 360 then identified the top 50 journalists on Twitter most followed by these 163 CEOs, using a custom-built tool through the Twitter API. The process for distinguishing a "journalist" from another media figure was directed under the question, "Could someone pitch a story to this figure?" If the answer was no, then they were left off the list. For example, several late-night talk show hosts were followed by CEOs. These media figures, (e.g. Stephen Colbert) were not added to the list under this methodology.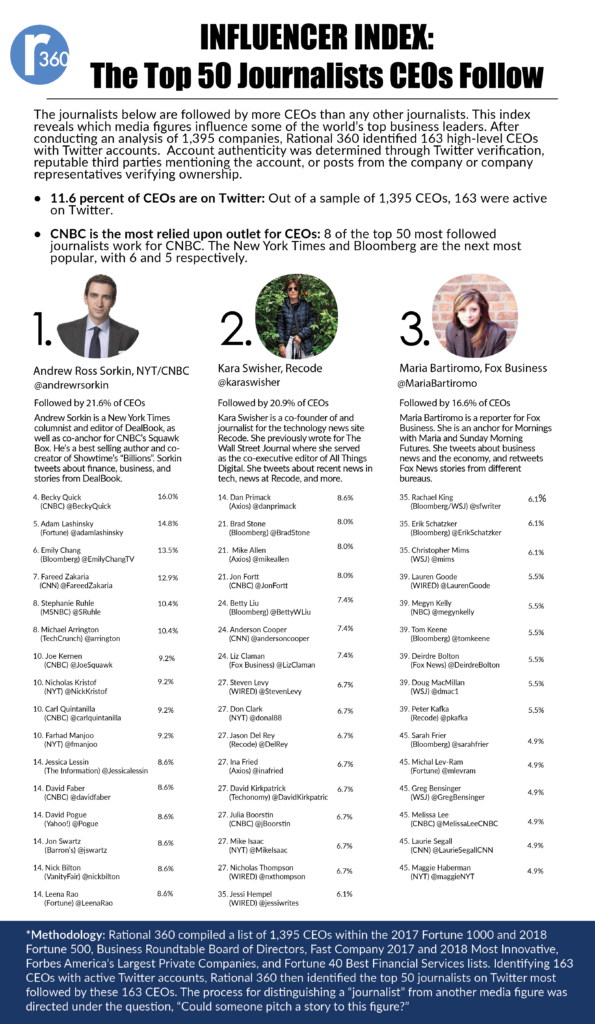 Want to know more? Take a closer look at the Influencer Index: The Top 50 Journalists CEOs Follow.
Share this blog with your network and colleagues so they don't miss out on these valuable insights.
---
Stay In Touch
Complete the form and our team will get in touch with you as soon as possible.